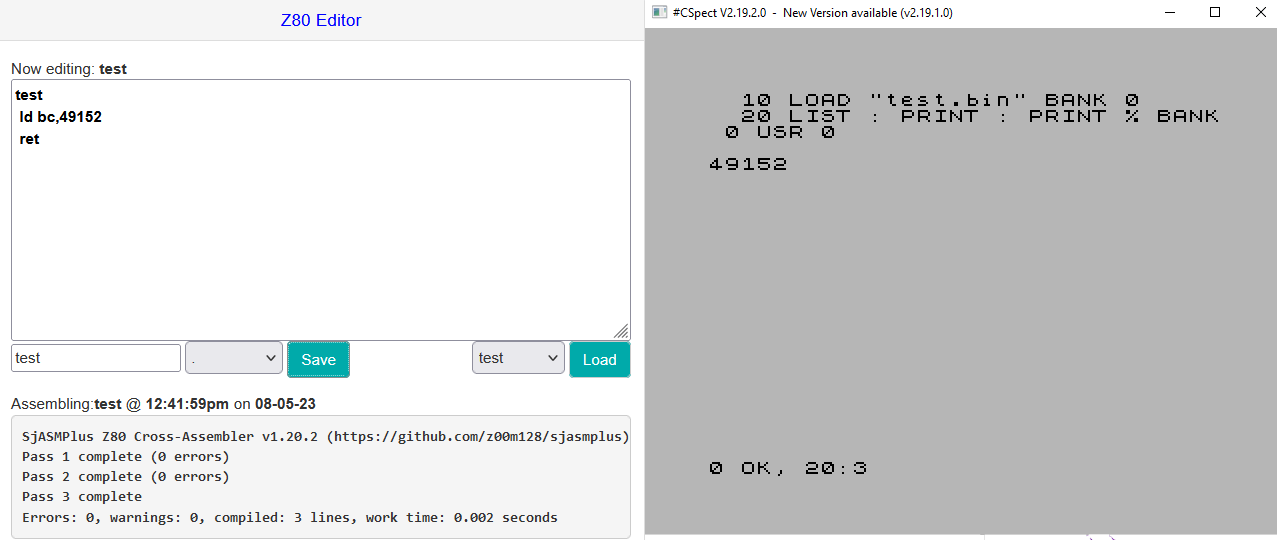 This is something I put together yesterday.
On the left is a web app I created which lets you write and assemble z80 in the browser then automatically adds it to the SD card image CSpect uses, which is done while the emulator is still open, which results in me being able to load and run it straight away!
Here's the workflow:
- As I type in the text box, cut or paste, etc. the content is saved to a temporary text file.
- When I hit Save a directory is created with the filename I choose, unless it already exists.
- After that the contents of the temporary text file are copied to a new text file with the name of the project in this directory.
- This text file is then passed to sjasmplus (which I installed on my VPS) and the output is saved to a binary file (it could later be adjusted so I can output NEX files). The result of this is printed to the web page.
- The binary file is then copied to the SD card image which is hosted and mounted on my VPS.
- I have my VPS mapped to a Windows drive on my laptop which means CSpect sees it as a local drive and is able to use the SD card image that is stored remotely.
- I am then able to write a short program which loads the binary file and runs it.
In short I can open CSpect, go to my web app and write some z80, save it, then run it in CSpect straight away!
I also have it so that it automatically lists the projects I have saved in a dropdown menu and then I can load in the source code from the text file for easy editing.
Now I just need to actually use it!